RESULTS RECORDING SEPARATES THE PROS FROM THE WANNABES
If you aren't measuring your performance with Results Recording then you're not taking a professional approach.
Every Pro Punter knows exactly how much they've made and the outcome for every single position on their books.
Apart from actual cash in your hands – effective and accurate Results Recording is probably the biggest aspect of Punting which separates the Pro Punters from the wannabes.
At the end of the day, if you don't know how much you've turned over, how much you've won, lost, had refunded and which Bonus Bets you managed to turn back into cash and at what odds you took all of these positions… then how could you possibly know how well you're performing?
It's because of this reason that at Puntalyser we record every single Promo Offer we've ever taken and then look at all of the key metrics that we can use to judge our own performance.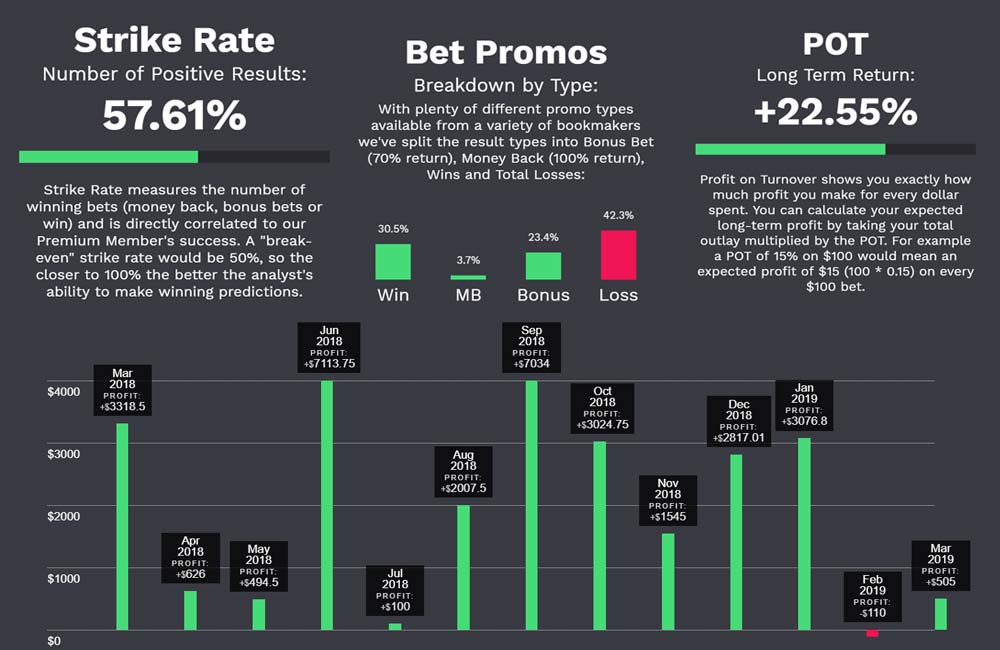 With that information in our hands it's easy for us to claim that we're Australia's #1 Thoroughbred Analysts because, frankly, we have yet to find anyone else who is consistently operating at 22.4% POT with a strike rate over 55%!
In fact, we know that our system works because we've recorded every bet and compared it with the market… and we can confidently state that we've made more profit in the last 12 months than many MUCH more expensive analysts have made in 2 years.
FAIR PRICE RESULTS RECORDING
With a myriad of Prices on the market; how do we fairly record accurate results?
Regardless of how you look at it, Field Size (along with Field Conditions) is an incredibly important factor to take into account when choosing a Selection.
As an individual Punter this is an easy step; you simply record the price that you took at the time of each bet. Done!
For Puntalyser, however, it's a little bit more complicated because not every Member will have placed the Promo Offer at the same time… and every ten seconds we expect the price to fluctuate in conjunction with the exchanges.
By taking the Starting Price we ignore the fact that prices can fluctuate wildly in the seconds after a race is delayed and aren't truly reflective of the achievable prices before the jump.
By focusing on Betfair Starting Price we risk pulling in prices that, frankly, never made it up on the Bookmakers because of their inbuilt margin or were offers that were available for just seconds.
Top Tote is simply out of the mix (so is Best of the Best and other Bookmaker specific pricing) as these offers are ineligible for most Promo Offers.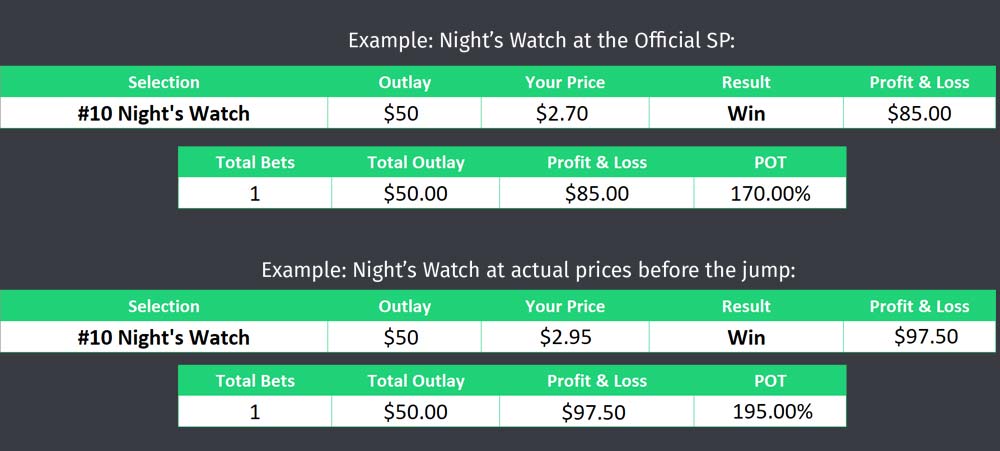 As you can see, the choice of price can significantly affect how you record your profitability.
In the example above, #1 Dreamscope was available well before the jump at $2.30 with the Bookmaker that made this offer.
As the race was delayed ever so slightly, Bookmaker and Punter money came for the Gelding, with his price compressing down to an official SP of $2.05.
On just this single example, that's enough to take your profitability from +$65.00 to just +$52.50 a difference of $12.50 representing almost 25% of your stake!
To simplify things and to keep things as fair as possible, at Puntalyser we simply record at the official SP, although we also record the average price across the Bookmaker in the final 10 minutes to the race, as well as the price closest to 9am and may use that for future analysis.
With that in mind, Premium Members can expect to actually achieve 10-20% better than our official results considering the massive reduction in value at the official SP versus strategically picking up a price prior to the race start.
TRACKING PERFORMANCE TRENDS
Unless you're a one and done Punter, there's no point looking at a single race or week to determine if you're profitable – even a broken clock is right twice a day.
In order to accurately begin to track complete Performance you need both a Macro view (meeting by meeting) as well as a Micro view (race by race) in an editable format that provides equations and analysis.
Anyone can have a great race, heck, even the worst Tipsters can hit a good Meeting or two… but unless you're tracking performance at the Race and Meeting level you may as well forget about any legitimate analysis of your results.
At Puntalyser we track all of this information, and even store Market and Jockey information for every single selection in every single race we've ever covered – meaning we have further fuel down the track for finding the magical needle in the haystack.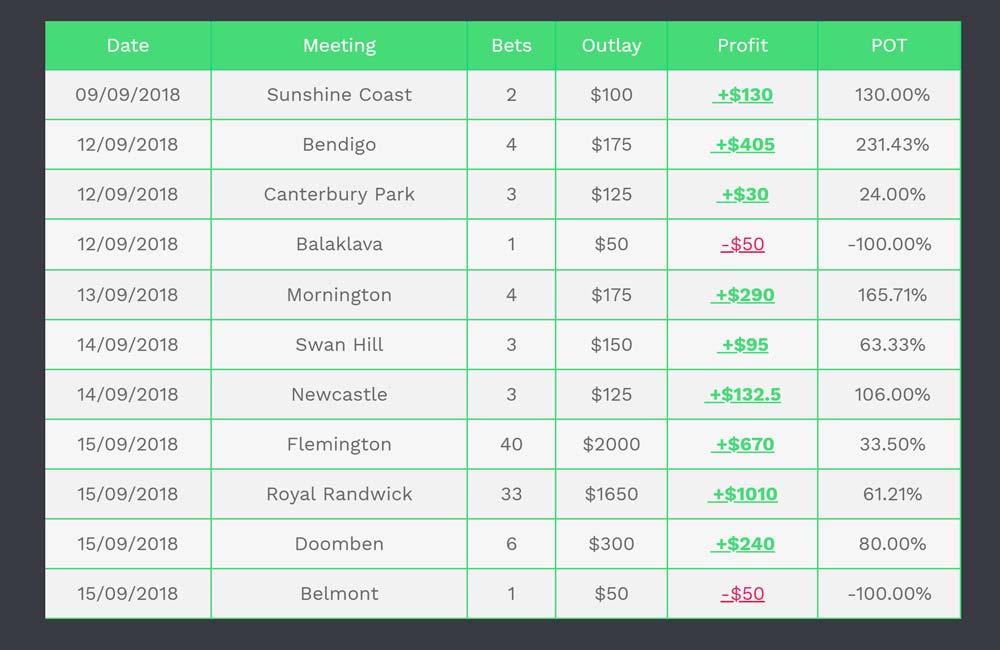 When you've got this information, you can easily identify areas for improvement, including meta-analysis and back-testing of your future models for identifying Selections.
When you begin to record this data, you take one step closer to become a Professional Punter as it's only by reviewing what works and throwing out what doesn't that you will be able to consistently improve your abilities.
IS THERE AN EASIER WAY TO RECORD RESULTS?
There is not, and most likely never will be, tools available to automatically hook into your Corporate Betting accounts and record your picks and all of the results information you would need to begin to utilise it like a pro.
But a Premium Membership with Puntalyser is the next best thing!
Once we've finished sending you all of the exact selections and Promo Offers to take, we return at the end of the meeting with a complete race by race and runner break-down highlighting areas of improvement, market movements and places where we made fantastic profit.
We top it off with a fully done-for-you results sheet showing you the Corporate SP and Betfair Starting Price, allowing you to play around with an Excel sheet of every horse, price and betting result.
It truly is the most flexible Results sheet in Australia; with an attractive presentation backed up by dynamic formulas that allow you to edit variables like unit and stake size as well as promo type and result and give you a complete view of your performance.
These results sheets are provided by default to all Premium Members, so the only way to take advantage of done-for-you Results Recording is to sign up with Puntalyser.
Want to get in on the action yourself?
Simply choose the Premium Membership that suits you below, and in two clicks you'll be part of Australia's best thoroughbreds tips:
No Contract; Cancel Any Time
Per Month

The Best Promo Tips Each Week
Form-Driven High Value Picks
Easy To Follow Selections Sheet
Targeting Long-Term 18% POT
Sent To Your Inbox Each Race Day
5-15 Tips Each Week
Recurs At $149 / Month
Fully Automated Bet Placement!
Per Month

Fully Automated Bet Placement
24/7 Direct Betfair Connection
Settled At Betfair Starting Price
For The Time-Poor Pro Punter
Targeting Long-term 15-16% POT
5-15 Tips Each Week
Recurs At $396 / Month
From the moment you activate your subscription you'll have complete access to our Premium Member Dashboard and you'll begin to receive race-day selections combined with the very best Corporate Bookmaker Promos in Australia.